MISENSE by Mila B
is an independent slow fashion studio run by designer and dressmaker Mila Burcikova.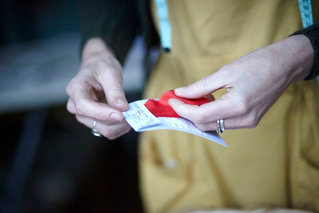 INSPIRED

BY EVERYDAY LIFE
My designs are inspired by clothes that I love wearing myself
– feminine and comfortable, clothes in which you can forget what you are wearing and make the most of your day. I make relaxed, versatile clothes that are easy to dress up or dress down.
My
One Thing Collection
consists of pieces designed to be worn every day across the seasons. It draws much inspiration from the beautiful and unpredictable Yorkshire countryside were I lived for a few years. The clothes range from a 'blanket coat' made for the kind of weather when you want to wrap up in a blanket with a good book, to a convertible cocktail/evening dress that was originally designed for my good friend living in a much warmer climate of the French Riviera.
HANDCRAFTED

IN MY STUDIO
Everything is designed and made by me in my studio that has recently moved to the beautiful rural Burgundy. Each piece is handcrafted using a combination of machine sewing and hand-stitching. Some pieces are predominantly hand-stitched which gives them distinction and a lovely soft feel.
ETHICALLY

SOURCED
All fabrics and haberdashery are carefully chosen and ethically sourced wherever possible. My favourite materials include British wools; unique end of roll fabrics and exciting finds from antique textiles markets.
DESIGNED

FOR EASY CARE
I make clothes to be lived in. Everything is wash-tested before and after sewing to make sure that the final design will be easily hand or machine washable. This not only avoids the chemicals involved in dry-cleaning but it also saves you the trip and helps clothes last longer. Most designs do not require ironing unless you prefer to. Instead, use a gentle spin setting and hang them up neatly just after washing. All my clothes are designed for nomadic lifestyle so just fold them carefully before travel and they will be ready to wear as soon as you arrive at your destination.
MISENSE
by Mila B is a fully certified member of the
Common Objective
and
Heritage Crafts Association